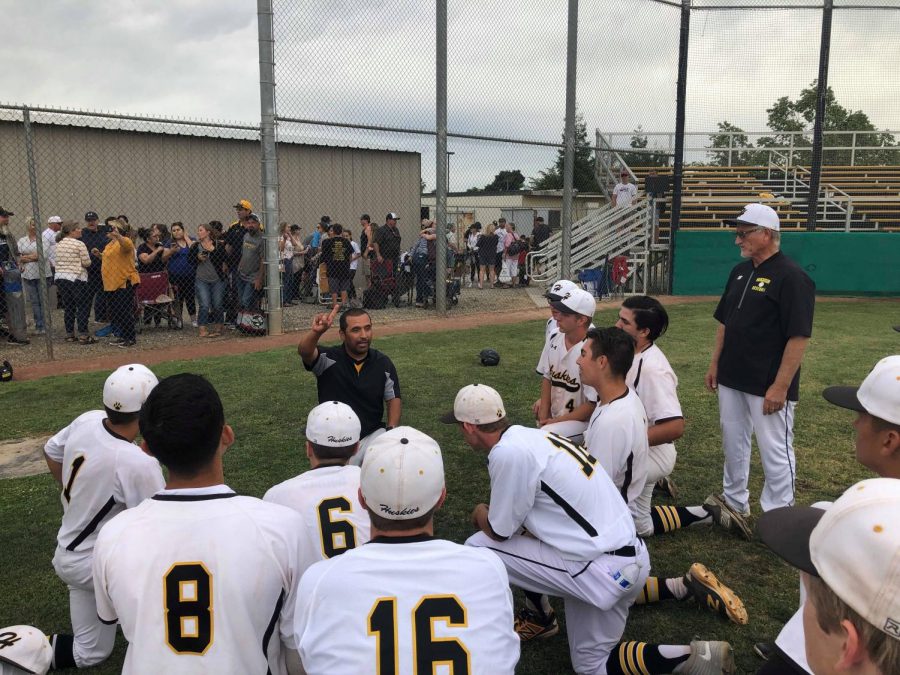 Senior Brian Haslam delivered a 3 run homer with two outs in the bottom of the seventh inning to give No. 3 Hughson a thrilling 10-7 comeback victory over No. 6 Amador Tuesday afternoon.
"Coach told me to stay within myself because I had a pretty rough game at the plate following the 1-3 for the walk," said Haslam. "For the past couple years I probably would've hung my head and maybe had a strikeout or popped up with my last up bat, but I listened to my coach all season and stayed in the game to get the job done for my team."
The victory wasn't an easy task for the Huskies coming into the bottom of seventh down 7-3. Having only brought in Jaxon Davis, Seth Tacheira and Luke Madsen prior to the inning. The start of the momentum for the Huskies came from Spencer Giffen who brought in J. Davis. From there on the Huskies brought in Kyle Kroeker,  Zeke Davis and Madsen to knot the game up 7-7.
Haslam later closed things out for the Huskies with a walk-off home run bringing in Jeremiah Langan, Armando Espitia and himself to give the Huskies a 10-7 win over Amador advancing the team to the next round of playoffs.
"It's hard to talk about it, we didn't start off well – it means everything," said Hughson head coach Charly Garza. "These guys battled through it all and found a way to pull through with the win."
Working as a team and using the lessons learned throughout the season, the Husky Boys continued to play with determination and drive.
"We learned a lot of lessons today, that is you got to start strong, can't make errors, can't give them extra innings and can't give them extra outs," said Garza. "But these boys are prepared they've faced everything throughout the season and today is just another example of what they've learned and I think we're ready to go for Friday."
No. 3 Hughson now moves on to face No. 2 Colfax Friday. First pitch is set for 7 pm at Zupo Field in Lodi, CA.
Division V Round 1 Results
No. 1 Argonaut 15, No. 8 Orestimba 0
No. 5 Bear River 7, No. 4 Linden 6 (UPSET)
No. 3 Hughson 10, No. 6 Amador 7
No. 2 Colfax 10, No. 7 Western Sierra 0