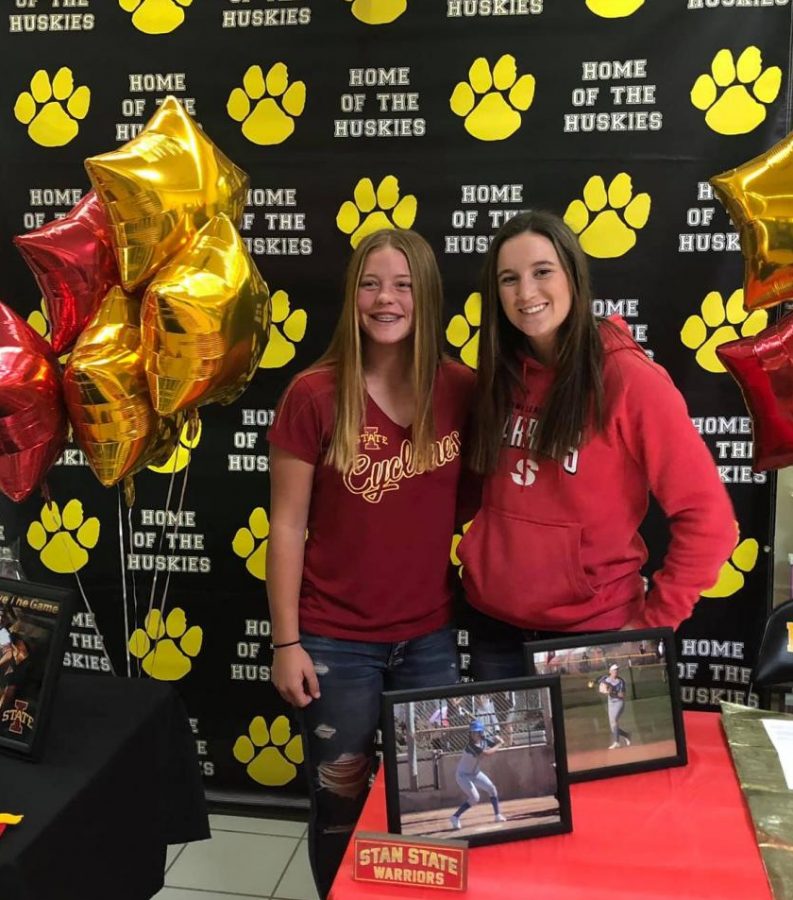 National Letter of Intent (NLI) Signing Day kicked off all across the nation this past Wednesday. 
At Hughson High School, two athletes celebrated the day with their families signing their letter of intent to play college softball. Softball players Katie Thornsberry, who signed on with the local California State University Stanislaus Trojans, and Kali Gose, who signed on with the D1 Big 10 Conference Iowa State Cyclones, both expressed their gratefulness to be able to play at the next level.  
"I'm looking forward to my future at Stan State and I'm happy to be apart of such a great team!" said Katie Thornsberry. "I visited other schools, but ultimately I knew Stan was the perfect fit for me, offering a great nursing program and the opportunity to play under a great coaching staff." 
"I am very excited to be signing with Iowa State University," said Kali Gose. "As soon as I got my NLI papers to sign it was the real deal, and I was filled with excitement. Iowa State is a home away from home with great people. Furthermore, I cannot wait to play in the BIG 12 conference, while also getting my education."
Gose's signing to Iowa State was a special one for the athletic department, as they add another D1 college signee to the books.  
"Well first it says more about the quality of Kali that being said, we have very strong athletic programs here at Hughson High School, and unfortunately there is a perception that if you are elite you need to go somewhere else, yeah so I am very proud that these 2 girls have shown that you can be excellent by coming through the Hughson High School programs," said Hughson High Athletic Director Joel Bernard. 
The last time Hughson High had a D1 college signee dates back to 2017 when Abigayle Mitchell signed on with Saint Mary's to run cross country. Going back further the last time the high school saw a softball athlete go D1 goes all the way back to 2015 when Jessica Garcia signed on with Oregon State.  
For many, the signing may come as a shock with the stereotype that going to bigger schools provides a better opportunity to play college sports. Iowa State Softball head coach Jamie Pinkerton spoke about what he saw in Gose's athletic ability.
"We're really excited to have Kali in this Class of 2020. This year we have made a real concerted effort in getting more athletic and more speed in the lineup," said Pinkerton. "Kali has a high motor and you know she's a highly skilled player from a standpoint that she should be able to anchor down our outfield and center field. Additionally, she's a blue-collar worker she works hard and plays hard with a lot of energy."
With the 2019 high school softball season right around the corner, the softball program looks to show what makes their program so special. 
"Hughson softball has had a great deal of success in the past decade due to great next-level players," said Hughson High Softball head coach Paul Gose. "Both Katie and Kali are great players and if they demonstrate the qualities Hughson softball holds high, they will have success at the next level."