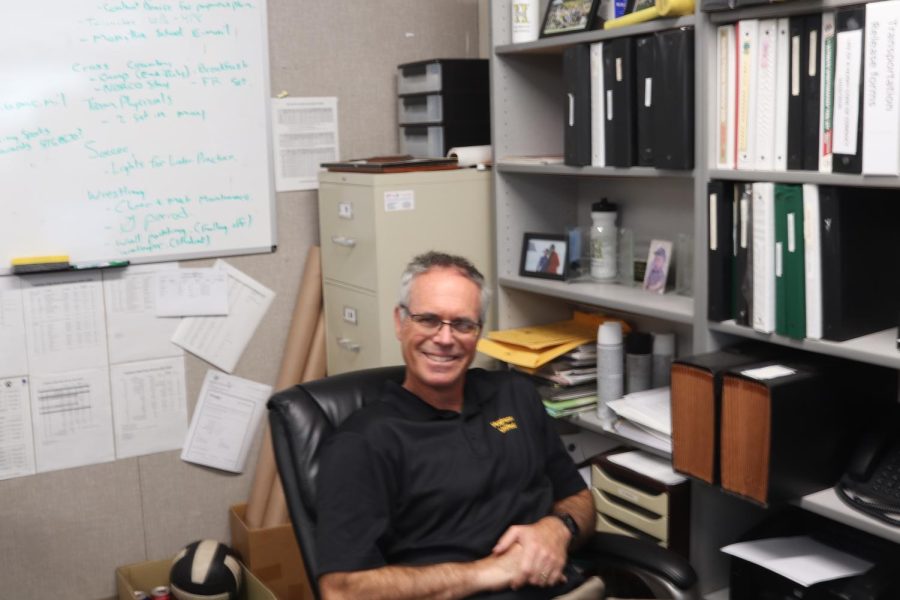 Sophia Sanchez: What's your name and What do you teach?
Joel Bernard. I teach Anatomy and Physiology.  I also coach Cross Country and Track & Field. I am also the athletic director.
Sophia Sanchez: A little bit about you?
Joel Bernard: I've been married to my wife, Inga for 26 years.  We have a son named Sean who is going to school in San Luis Obispo
Sophia Sanchez: How long have you taught at Hughson High?
Joel Bernard: 23 Years
Sophia Sanchez: Was your plan after High School, always to become a Teacher?
Joel Bernard:  No, I didn't know what I wanted to do.
Sophia Sanchez: Who is someone who has positively impacted your life?
Joel Bernard: Besides my immediate family, I would say that I had a couple of really good coaches when I was growing up that made a major impact on me.
Sophia Sanchez: What is your favorite part about your job?
Joel Bernard: I like the opportunity to try and be a positive role model for my students and athletes. 
Sophia Sanchez: What do you love most about this school's staff and students?
Joel Bernard: Almost everyone is really easy to work with.  Most of my colleagues are very willing to help each other out. 
Sophia Sanchez: If you could tell your students anything and hope it sticks and helps them, what would it be?
Joel Bernard: You're going to continue to grow and change a lot after you leave Hughson High School.  Don't let things that are negative now define you for the rest of your life
Sophia Sanchez: One of your favorite quotes?
Joel Bernard: "You are not special. You're not a beautiful and unique snowflake. You're the same decaying organic matter as everything else. We're all part of the same compost heap."