Husky in the Hot Seat: Mr. Hernandez
What's your name? Marcos Hernandez

 What class do you teach? World History and Honors World history

What made you want to teach this subject? I love history, I enjoy going to museums, I've always liked going to museums. I've always been interested in learning about culture and history allows me to learn about my history and the history of my community and to teach, and inspired my students to learn about their own culture and their own history,

If you were a teacher before coming to Hughson High what school did you teach at? Turlock High school 10th grade world history and 12th government and economics 

How do you feel about teaching at Hughson High so far? I love it! I'm excited to be teaching here, it's been a fun week and a half and I look forward to teaching this year.

What is  your favorite thing about being a teacher? Helping my students, I want to see them be successful. I struggled a lot in school, because English wasn't my first language, I was lucky to have teachers who supported me and pushed me. And that was very valuable. So for me that's the best part of teaching.

How would you describe your teaching style? Student focused, everything that I do in the classroom is to ensure that students feel safe, welcomed and to have the tools necessary to be successful.

What is one of your favorite hobbies to do in your free time? I like to go on hikes,play video games;The Last of Us, going to the beach and Disneyland, and I like to eat.

What pets do you have and do you have a dream pet? I have a dog her name is Princess Leia. She is 4 years old and a rescue. She is a rat terrier mix.

If you could go anywhere in the world, where would you go? Mexico city to see the ruins of the Aztecs and Mayans, go to museums and look at the architecture.

What's your favorite book or movie? Favorite Movie: Finding Nemo
Do you have anything you want to add, or have any advice for students? Enjoy your time here at Hughson High, Don't be afraid to get more involved with school clubs and have fun and make the best of it because you're only young once, and the days, weeks, and months really do fly by, and when you get older you have a lot of responsibilities so just enjoy life while you can.
About the Writer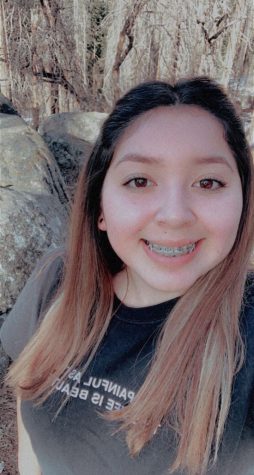 Alexis Sotelo, Editor
This is Alexis Sotelo, she is a Sophomore at Hughson High School. In her free time she enjoys painting, taking pictures and spending time with family and...