Lawrence Sisters: Queen and Princess
October 4, 2018
Filed under News
Hang on for a minute...we're trying to find some more stories you might like.
Friday, September 28, 2018, proved to be a huge night for the Lawrence family as both Jessie Lawrence, senior, and Maicy Lawrence, sophomore, won Homecoming Queen and Princess.
With the stadium completely filled with spectators for both the football game against Riverbank and there to witness the crowning of the homecoming court, anticipation was at an all-time high. The court, whose queen and princess were announced on Friday, and kings, who were announced at the powderpuff  game on Tuesday, consisted of the following:
Freshmen: Jasmine Delgado, Karly Kerr, Blaize Buckman, and *Anthony Lopez
Sophomores: *Maicy Lawrence, Madilynn Coelho, Deegan Brasil, and Avery Anthony
Juniors: Madeline Keo, Alondra Ochoa, Steven Morris, and *Tyler Lewis
Seniors: *Jessie Lawrence, Claire Dieker, and Carlos Arreola
*Queen & king winners are denoted with an asterisk.
Both Maicy and Jessie Lawrence felt that the entire day was hectic and time never seemed to be on their side, but nonetheless, they loved every moment of the day.  For both girls, getting ready and getting dressed up was their favorite part of the day.  For Jessie however, the day also came with some sadness.  "The worst part of my day," Jessie recalled, "was the fact that everyone couldn't have won and that there was only one winner."
Madeline Keo, a junior queen nominee, was overwhelmed with positive emotions at being nominated and voted by her class to be a part of the homecoming court.  To Keo's knowledge, she thought that this may the first time in the school's 108 year history that an Asian girl had been nominated.  "This gives me an opportunity to represent Cambodia in a positive light," Keo explained, "Often South East Asian's are shed in a negative light, but hopefully I can show otherwise."
The tradition of homecoming queens and princesses was one that the nominees felt should continue. "It is such an honor being crowned a princess," Maicy Lawrence said, "And it is an honor to crown the next princess."
Pictured below: The moment the girls were told they had won. 
"I was really shocked and didn't didn't think I would get nominated, but winning was really cool," Maicy said when asked about her initial reaction to being nominated.  Jessie added that at that revealing moment she, "looked at Claire [Deker, fellow nominee] because I wanted her and everyone to know I hadn't expected it, and that I wanted others to win as well.  I was shocked."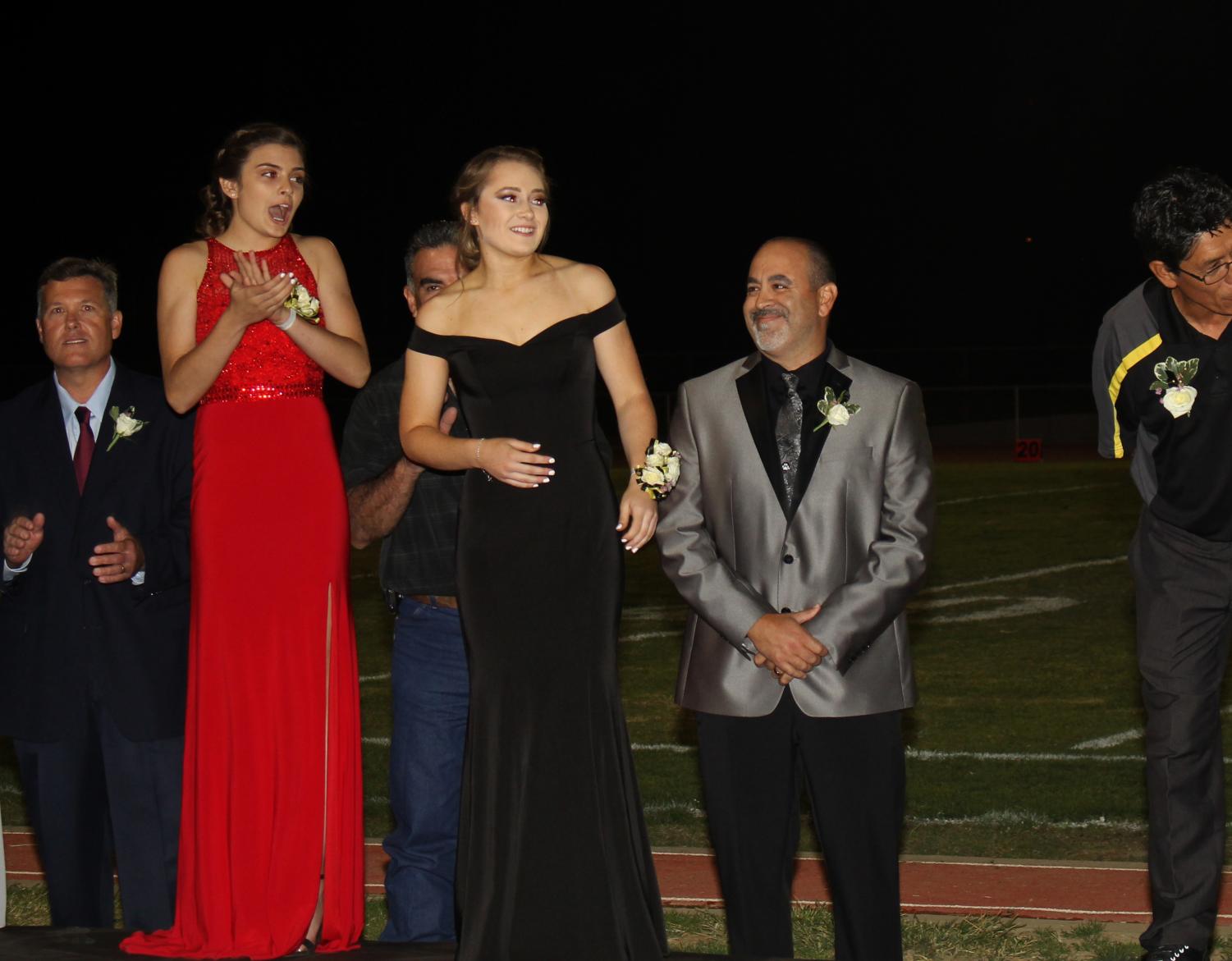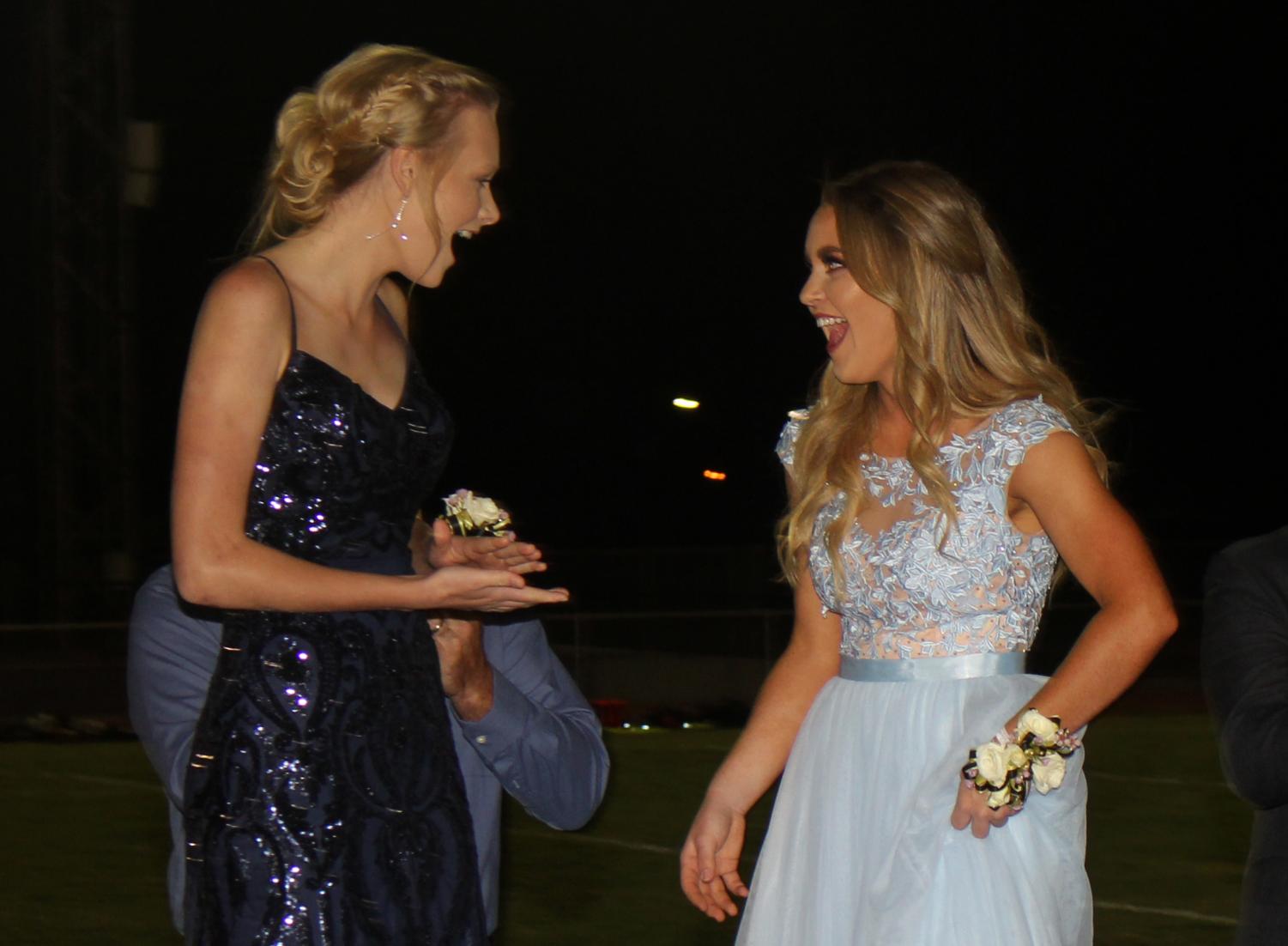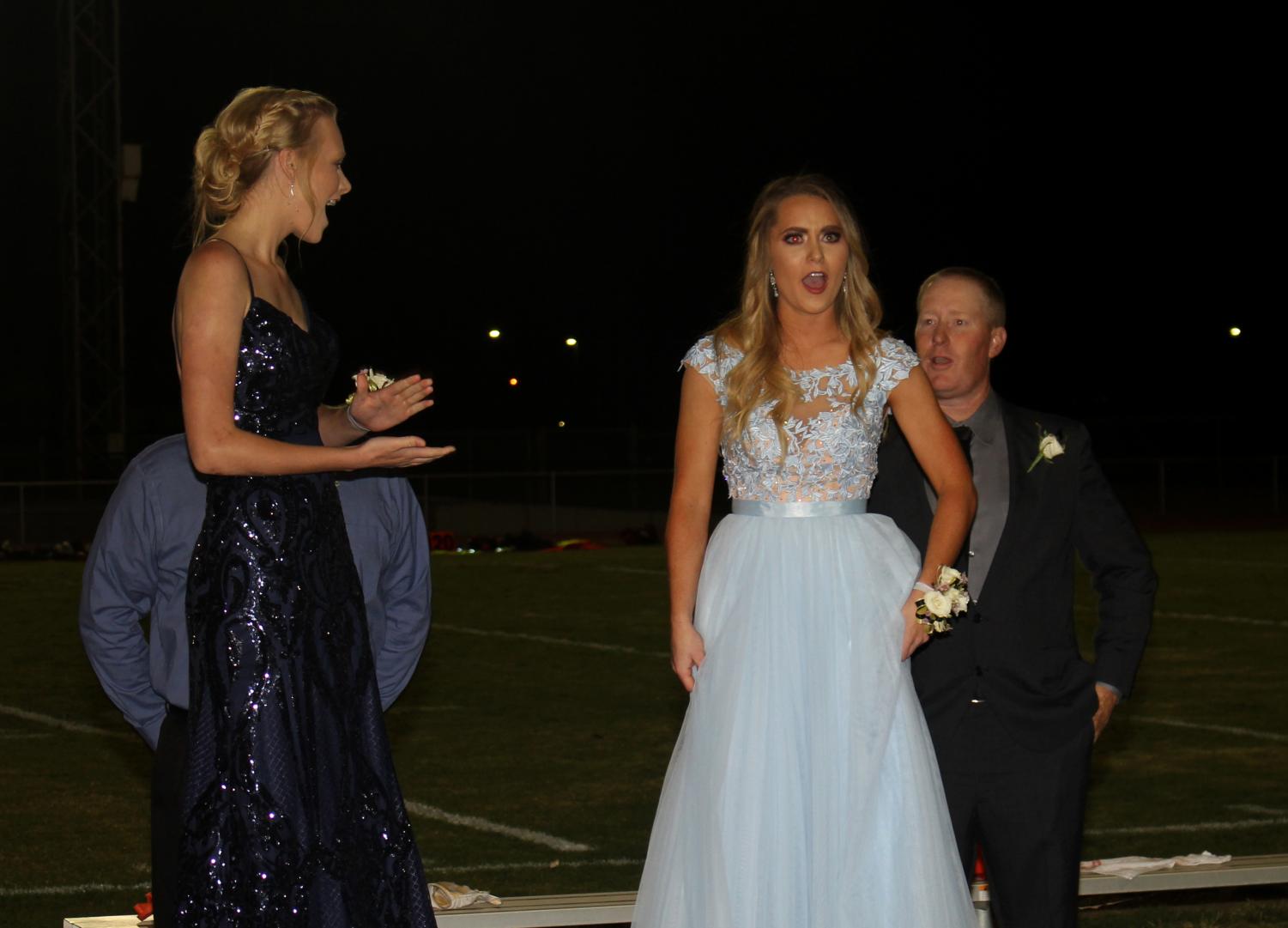 Above photos taken by journalism. Video of the Lawrence girls winning may be viewed here. It was provided by the Lawrence family.