Capturing The Moments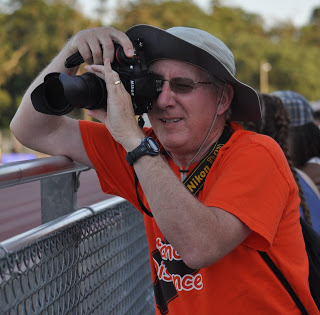 Covering the latest cross country and track news around the 209 area for the past 11 years on the website StanCo Distance, stands one man alone who many people may not know. His name Scott Durham, a science teacher at Argus High School in Ceres, CA.
Although the website StanCo Distance was founded in 2002 by Ruben Esparza, Durham has taken over most of the duties.
On StanCo Distance viewers can keep up with the latest cross country and track news. The immersive experience provides a perspective like none other from meet summaries to action packed photos from different meets around the area.
"Scott is a great guy and goes out of his way to make sure our runners get coverage," said Hughson cross country/track coach Joel Bernard. "It's great seeing the looks of players once the photos are shared out on social media."
Durham's own track running career started in 7th grade racing at Hamilton Junior High School in Fresno, CA. In his first track meet Durham recalls having to stop and walk in his first two mile race. By the end of his seventh grade year, he was able to run a 11:56 2 mile and to top things off his team won the City Championships. As he grew and put more miles in, Durham decided to take a chance at another running sport Cross Country. Respectfully Durham was always in the top eight runners, he wasn't the best or the fastest, but was always determined to get the job done. His team also saw similar success to the track team taking three straight City XC Championships.
Following his middle school years Durham continued to partake in the two running sports this time at Fresno High School. Entering in the high school playing field, Durham was immediately the #3 man on the varsity cross country team following his previous success at the middle school level. As for track, he ran the 1600m where he made a section run to place six and eventually went to the State Track Championships.
Following his high school years, he took his running to the collegiate level running at Chico State. As he continued to dominate, however his running career soon ended as the college disbanded their cross country and track programs.
Now 35 years later his love for the sports continue to prosper, as he runs the website StanCo Distance.  Today Durham inspires a new generation of athletes and truly captures the essence of what the sports are all about – dedication, perseverance, hard work, and athleticism.
"StanCo Distance has been a great supporter of running sports in our area," said Hughson cross country/track runner Emily Fife. "It means a lot to me that he goes out of his way to cover two sports that rarely get covered by media outlets."