October Horoscopes
Hang on for a minute...we're trying to find some more stories you might like.
Aries- This month you may have been thinking about your destiny here in this life. You may be questioning your purpose and struggling to find the place that you feel you belong. The concept you must grasp in this period of time is that your legacy is not somewhere in the future. Your legacy is on-going and is being created in every passing  moment you live through. Do not be worried about the impact you have on the people and environment around you. Simply keep a positive mindset as often as possible and go about your truest intentions and your month will slide by.
Taurus- This month you will be faced with many challenges and situations that will attest your courage. You will have to conquer some of your fears and demonstrate positive changes in your lifestyle. Do not avoid experiences that make you feel uncomfortable or insecure because these situations are the ones that are going to help you grow the most this month. October may be a fulfilling month for you because you may face some of your biggest fears and accomplish big things that you have been anticipating. This month may be a very quick adventure for you because you will be busy doing things that are desirable to you.
Gemini- This month you may be faced with an intense decision. This choice may have to do with someone that you may not particularly enjoy. It might force you to look at the big picture and determine whether or not you truly could benefit from their offers. This is probably something that you were not looking forward to dealing with this month, but in the long run you will see that this could be a deeply meaningful change for your future. This month you may start to become aware of signs about something that you have been continuously thinking about and possibly dwelling on. A family issue could possibly come up this month and you will be the only one with the solution to keep yourself at peace. Do not feed into the drama of the people who crave control and power. Make sure that the answer to this problem is found by the end of this month.
Cancer- This month you will be pushed to make clear boundaries for people who have been pushing their luck with you. You might have to proceed to expressing the treatment you desire in order to obtain results. If you push for these people to stay in their lanes, you may be able to form healthy relationships with them. October may have a weird pattern for you and you may have a hard time following the events that are going to occur throughout this journey of personal growth. You may find yourself feeling lost this month but do not worry because by the end, all of the missing pieces you have been looking for will fall right into place.
Leo- This month there may be a presence in your life that you have not particularly been enjoying. You can only stand so much, but do not worry because this annoyance will be dissolved one way or another and your tolerance will be recognized. This situation may lead to some new and excited things for you in October. Your social life is going to come alive. This may be because of a family reunion or gathering. You might meet somebody this month that will lead you to many opportunities. Your ability to live life to its fullest will not be unappreciated. Somebody is going to show their admiration for you this month and you possibly could gain a sense of self confidence because of it. This friendship could reveal a new side to yourself.
Virgo- This month you will endure a great level of abundance. Something that you have been putting a lot of effort into is going to start paying off. Your accomplishments this month could lead to a greater sense of inner peace and spiritual awakening for you. The behavior of the people around you may be causing you anxiety and this might be because you share a common goal with whoever these subjects may be. Stay respectful and humble throughout this situation and you will be rewarded with a rich learning experience. An appreciation for your efforts possibly could be shown by the end of this month and it will be a great boost of confidence for you.
Libra- This month you may stumble across a great idea. This project may cause you a lot of stress, but if you believe that this can lead you to a greater purpose it will all be worth it. You may even come up with an idea that is even greater than your original one. This assignment will take you much further in your journey to success than you would think. A resolution to a problem that has been consuming a lot of your energy could possibly come up this month and you will come to realize that whatever the outcome is, is the best outcome possible. Everything happens for a reason. Remember that as you flow through the month of October. At the end of the month your time may be consumed by an overwhelming amount of work. Keep in mind that all of your hard efforts will pay off for your benefit in the long run. The rewards will outweigh the burdens.
Scorpio- This month you will start to revolve around a romantic scene. If you are single, you might run into a special someone who sparks your interest. If you already have a significant other, you will have a new beginning in your relationship. This month could be an open door to discovering your full potential to love. Do not hold yourself back from experiencing this new kind of relationship. It could possibly expand your perception of yourself. An exciting earning opportunity might pop up for you in October. A close peer may confide in you and you might feel obligated to share this information with somebody else, but do not give into this temptation. Instead offer this person advice, guidance, support, and love. This may resolve your own inner conflicts.
Sagittarius-This month you will maintain a lot of close social connections. For you it is easy to fit in and make friends, you enjoy almost every person that you socialize with. This month you might find yourself associating with new people and learning more about the diversity you have in yourself through the art of connecting with these energies. Usually you surround yourself with familiar people, but this month you will change your groove and start to expand your horizons. In October you may find an exciting opportunity for work or travel. You should take this offer and use it to explore your new found interests. Keep a positive mindset this month and you will see many great things happen in your favor.
Capricorn- This month your main focus is going to be the future. You will come to discover that even your most well-thought out plans will not always go the perfect way you expected them to go. You will realize that no matter what everything will play out the way it is supposed to. All of the situations you encounter this month will lead you to an open door that you might have thought was locked and forbidden before. If you find yourself feeling disappointed, turn around and use your intuition to come back even stronger. In October you will not take no for an answer. This is going to lead to many opportunities for you, Capricorn. Do not become aggressive when chasing after your aspirations but stay calm and confident. Stay committed to your goal and you will obtain the rewards you seek. Keep your eyes open for a friendship that tests you and becomes more of a competition than anything. Do not let your drive to win destroy a true connection.
Aquarius- This month you may be nervous to express a great idea you had with someone who could possibly connect you with the right resources to make it happen. Take your chances. You could set yourself up for something great with this information. Do not be insecure when it comes to this situation. You must have confidence in yourself and your abilities to create. In October you may be fortunate enough to reconnect with friends that you have been meaning to reach out to for some time now. You may also come into contact with someone who has a distinct vibe that you seem to enjoy. This may be an old flame or it may be somebody you have never encountered before. Many travel and educational opportunities will be coming your way at the end of this month. Take advantage of the Aquarius.
Pisces- This month your self esteem may have started off low, but you need to learn to appreciate your true worth and become your own best friend. You will encounter many tests in October that will challenge your abilities to do so. Do not be frightened Pisces, for this is an opportunity to reach a new level of self love and confidence. Show the world your talents and drive. Do whatever it takes to keep your drive high. There is really so much to appreciate about you and you must learn to love your traits yourself before you can accept anybody else´s praise to you. October may bring you a new love or friendship with a soul that you feel an instant connection to. Although you may be different, this person counteracts you and can teach you a lot about yourself. Allow this person to be a part of your life and see what new adventures come your way in there presence. Later in October you could possibly resolve an issue that had been stressing you out with a family member. Your relationship will be renewed and flourish like never before. Keep high hopes for this month and you will see many positive end results.
About the Writer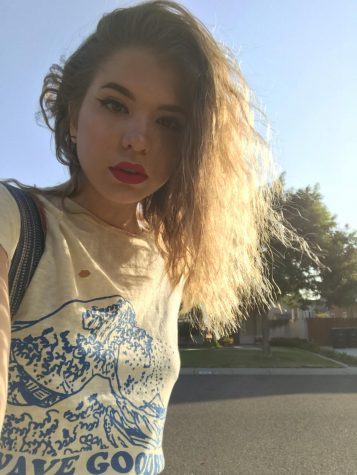 Ciarra Bowerman, Staff Writer
Ciarra Bowerman is a senior at Hughson High School.  She enjoys art and music and on her free time she enjoys spending time with her friends and family. ...