November Horoscopes
Hang on for a minute...we're trying to find some more stories you might like.
November Horoscopes
Aries- You may have struggled in the past to deal with something that happened to you or that somebody did to you. These situations may be very potent to your senses this month and you will take on the tragedies head on and in the most direct aspect. This month you need to remove yourself from the feelings of guilt and regret. Do not hold back from releasing these feelings, but move on and transfer to a new coping mechanism. You need to forgive yourself for any grudges that the voice in your head may have been holding against you. Set your spirit free again. Learn the lessons that you need to learn and take that information to improve your life. You need to spend some time this month asking yourself the question why and thinking about resolutions to any obstacles that may be in your way.
Taurus– This month you might come to face a challenge from somebody or something. You might not usually be up to such challenges, but this time you feel you must prove yourself. If you think that it would be more beneficial to set your pride aside and rise above all of their talk, you should take up the opportunity and walk away. This could be an even greater victory for you. There is power in exiting a situation when the other person is more passionate about the problem than you are. Showing that you will not give them your time of day to change your beliefs or values could be the most effective comeback. You may be invited to several events over the course of November and although you may not be able to attend every function, it will feel nice to have a sense of approval from each host. Do not let yourself fall behind in your goals this month Taurus. There might be a glitch in one of your plans toward the end of this month but do not let it discourage you.
Gemini- This month you may feel as if you are the cause to a lot of the drama that has been occurring around you lately. You may be feeling this way either because you were involved in it or because somebody told you or implied that you were. Reflection and deflection are possible causes of these emotions. Do not allow the things that are happening around you to interfere with your inner peace. You may realize that there is a particular energy surrounding you this month that will add charm and charisma into the character of your environment. If you have any special opportunities that you have been thinking about this is the month -try to obtain them. You may experience multiple new relationships this month that will allow you to self-reflect and reach into a deeper understanding of each person you encounter. At the end of this month, an unexpected source of security may be encountered and as soon as it arrives the stress and insecurity that has bombarded you will be raised from your shoulders. Tap into a talent you have and focus on relieving your stress and anxiety through expressing yourself.
Cancer- Last month may have been an emotionally, as well as a physically, draining month for you, Moonchild. You may have felt as if all of your burdens were going to collapse on top of you at any given moment, but this month things are going to fall into place again. You will realize that the hardships you encountered last month were necessary for your growth and the opportunities you will come about this month. You shall fall into a place of love, peace, and security that you had abandoned for some time by the end of this month.
Leo- You may have a lot going on this month and it may be causing you more stress than the usual dose. There is so much for you to do this month that you spend more time thinking about how you are going to get it done than you do completing it. Channel any negative energy into your creativity and use it to your advantage. You need to allow yourself time to get involved in a hobby or complete a project this month. Restore the lust that you have for life this month. Do things that you enjoy and make you feel at peace. These types of activities could possibly become a tactic to earn money. At the end of the month an emotional conversation may set the tone and provide some time to really absorb the reality of your surroundings, love life, and motivation.
Virgo- When you think of yourself you may not consider yourself to be circulated around intuition, but this month you will come to see many situations where you will use your intuition to your advantage and in most cases your conscious mind will not even notice. If you have a strong feeling of distrust toward any of the energy that you let into your life this month, let go of it. This is not the month to experiment on engaging with thoughtless souls. This is the month to self-reflect, improve on your morals, and strive for your goals. There may be some neglect or issues in your home this month. Satisfying the resolution to this conflict may bring potential inconveniences.
Libra– This month you may come across somebody who you have not cared for in some time. They might be better off without you in their lives and this might cause you jealousy but you cannot let it get the best of you. This is not the time to do as history does and recycle old patterns.  Working these problems out in your mind could be a beneficial process because you may realize things that are going to be needed in the future. You might feel the need to intervene on a friend's misfortune, but you will find that it is probably best to let them handle this problem on their own. If you take on this project, it will most likely turn into a burden for you. A social event may happen at the end of this month that will open you up to new and exciting ideas.
Scorpio- This month you must remember that no matter how far down a path you go, you can always turn around to find your preferred direction. You may start to feel that you have spent too much time working on a particular journey and you are heading the wrong way. This month you might realize that continuing this mission is going to be pointless. You might find yourself stressed and frustrated with the amount of things you have to get done this month. Your list of things to do may be smaller than you think if you really look at it and decide which jobs are actually your duty to complete. Toward the end of the month keep an old goal in your perspective and your eye on the end reward.
Sagittarius– You cannot judge a book by its cover. Keep this in the back of your mind while going through this month. Sometimes the people who look the most put together are the same people who feel like they are falling apart. This month you may encounter and deal with somebody under these standards. Throughout the month you might question the level of experience this person claims to have. Try to get through the month with this person because you will realize that sometimes people can help others even though they cannot help themselves. Do not classify people under specific categories. You are on a path to your dreams and this month you will receive the guidance that you have been looking for. A disagreement you have at the end of November may lead to a full out argument, but do not let this destroy a strong relationship. This may be a touchy topic for you, but you must keep your pride to the side and your thoughts in your pocket.
Capricorn- Something that you have been very dedicated to may be the exact thing that is holding you back this month. In November you might begin to realize this and what exactly it is. If you owe anybody anything this month, it could become a stressful burden to you. You might be thinking that what you really need is to do something for yourself. Realize that you have done good deeds for people and it is now time that you should feel no guilt to do what you need to do for yourself. This is a great time to begin an idea that you never started in the past or even a new idea that has been budding from your thoughts recently. You will find guidance in a companion this month and they will lead you to a new work or money related opportunity. Although this month looks as if it will be bright for you, be sure to take all aspects into consideration when research and work is involved.
Aquarius– Taking a break from reality and bringing yourself back into nature will be a great escape and emotional transition for you this month. Try not to lock yourself in your room and watch Netflix, but instead go out and ride your bike to the nearest park. There are opportunities available for you this month that you need to set your mind to take advantage of. You must wind down your frantic emotions as early in the month as possible in order to resist a gloom reflecting into your own reality. Whatever nature means to you, do it. Escape. A connection that has been a pondering concern for you will flourish in November. Your communication with this person will become, in a way, softer. A travel-related matter might pop up at the end of this month and you should be quick to take up this trip, for it could possibly bring many benefits. Explore the possibilities.
Pisces- Somebody that you have a connection with will become an irritating presence this month because of their lack of authenticity. There is a lot to lose and a lot to gain in this relationship. You might not have complete trust towards this person because of the suspicious activities they have been involved in. Do not feel bad about doing what is best for you, whatever you choose that is what is best. Keep an open mind and always trust your instincts. Each day your month will get better and better. Wear a positive mindset and a smile and you will find that each situation you encounter is not as repelling as you believe. In November, you might find that one of the problems on your plate faded away leaving you with a brighter outlook and clearer thoughts. Your desire to control this issue will be fulfilled by the end of this month. You could encounter an opportunity to sell something whether it is a personal object or something that you created. By the end of this month, you might be invited to an event that you will be looking forward to and you should take time to enjoy planning the event out for yourself. Hope for the best but expect the worst.   
About the Writer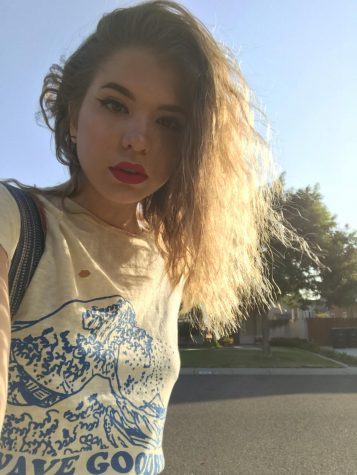 Ciarra Bowerman, Staff Writer
Ciarra Bowerman is a senior at Hughson High School.  She enjoys art and music and on her free time she enjoys spending time with her friends and family. ...