Hughson State Academic Decathlon Champions
Hughson High School has secured the California Academic Decathlon medium-sized school State Championship. The event which was held this weekend in Sacramento quizzed student on their knowledge of the 60s.
"It was surreal. We didn't expect it coming from a smaller school because we were up against huge schools who were with 5 coaches and had their decathlon material integrated into most of their classes throughout their school day," said Mercedes Padilla, junior. "We didn't expect that we would win, but we feel really good.  It was a nice surprise."
The Hughson team has been led under the direction of Paul Michaelis who has now been teaching the Academic Decathlon class for four years at HHS.
"I am super proud of the kids," said  Michaelis. "They have been working hard and I still think they have more to give so I am looking forward to nationals."
An Academic Decathlon team consists of nine students and is made up of three Honor students, three Scholastic students, and three Varsity students in accordance with the following grade point average definitions: Honors – 3.75-4.0, Scholastic – 3.0 – 3.74, and Varsity 2.99 or below.
Eight students will be moving forward to the National Competition from Hughson. Competing in the Honors division is Monica Yup, Madeline Keo, and Nathaniel Blazzard.  Competing in the Scholastic division is Monica Hollcraft, Murphy Phillips, and Kylee Sullivan and completing the team in the Varsity division is Austin Hoach and Mercedes Padilla.
The National competition is online and will take place on the campus of Hughson High.  It consists of seven tests -totaling 335 questions.  Each of the eight members of the team will have to complete all of the tests and answer all questions. The National Competition will take place in approximately one month.
"I am a little bit nervous for Nationals because the stakes are higher with the rewards," said Mercedes Padilla. "You can win scholarship money – the last school that won Nationals won almost $5,000."
To prepare for the win at State the students studied every day and quizzed one another with flashcards and they plan on taking much the same approach for their National competition but plan on working even harder.
"We were shocked because we didn't think we had done so well. We were just shocked," said Monica Yup, senior. "I am so proud of us and I hope we do well at Nationals."
About the Writer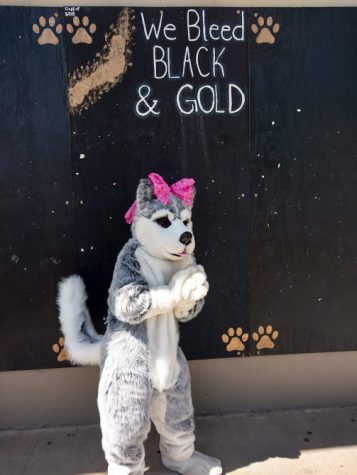 Helen Husky, staff writer
Helen Husky, a sweet charismatic young pup, brings spirit and enthusiasm to the Hughson High School campus.  Known for her pride in the school, she is...