Hughson Sings Its Way Through Disneyland
The lights turn on, the smell of churros fill the air and the sounds of a high school choir shakes the stage.
This past weekend Hughson High's own choir took the spotlight for the 21st year in a row at Disneyland's California Adventures Hollywood Backlot Stage. The show was made possible through the Disney Performing Arts, a program which focuses on sparking creativity and unlocking the true potential within students.
In preparation for the big moment, the students prepared for the past four months learning a variety of songs and choreography.
"It was emotionally moving for me to watch the students work so hard and connect with the audience so well," said Hughson High choir teacher, Brad Thompson. "Many times, students will wait until the last three days to really work hard. These students worked hard from the very first day to achieve excellence."
The lineup of songs included "Baba Yetu" (Christopher Tin), "Africa" (Toto), "Forget About The Boy" (Thoroughly Modern Millie), "Waving Through A Window" (Dear Evan Hansen), "You Will Be Found" (Dear Evan Hansen) and "Sing" (Pentatonix).
Besides the performance, students were also immersed in a Disney workshop taught by Heather McMasters, a professional in performing arts. Some of McMasters achievements include working with famous actors Julie Andrews and Dick Van Dyke.  She also has been on TV acting for ABC, NBC, and KTLA.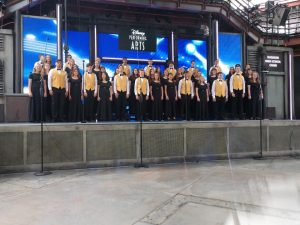 During the workshop with McMasters, students were given the opportunity to sight sing, the process professionals use to sing music for the first time without prior practice, along to Disney favorites such as "The Circle of Life" (Lion King) and "This is Halloween" (Nightmare Before Christmas). Disneyland recorded Hughson High students singing these songs and then Disneyland allowed the students to listen to their own recording play alongside these famous movies scenes enabling students to hear their voices as the movie score.
The experience given to the students will forever be an everlasting memory.
"Performing at Disneyland is a spectacular experience that gives you a glimpse into what it takes to be a professional Disney performer," said Emily Fife. "It also gives you the opportunity to help create the magic at Disneyland through singing."