New Assistant Principal Named At Hughson High
Natalie Moring, who currently serves as an administrative learning director at Hughson High School, was confirmed today by the Hughson Unified Board as the new assistant principal. Moring and Hughson High's new principal, Loren Lighthall, are set to become the administrators in charge on July first.
Having served as a learning director at HHS for the past five years, Moring has brought to the school her leadership and passion for helping students.
"One of the aspects that I will miss about my current position is working with students on meeting their post-secondary goals," Moring stated. "In my current position, I am able to celebrate successes with students whether it is graduating from high school or being admitted to the college of their choice. Hopefully, I will be able to continue to work with students in such positive ways."
Seeking the assistant principal position was a natural fit for Moring because for the last several years she has been training alongside current principal, Debra Davis and current assistant principal, Gary Larson.
"Natalie has been a tireless worker during her time as our learning director.  She is well organized and knows the community of Hughson extremely well," Principal Debra Davis explained.  "She graduated from Hughson High School in 1997 so she has a perspective of a former student, current member of the administrative team, and parent of two students who attend school in the district.  Natalie is an extremely quick learner, she exercises great judgment, and always has the best interests of students in mind."
Prior to working as a learning director, Moring taught English, ELD, and AVID at Escalon High School for twelve years.  She also served as the associated student body adviser, cheer-leading coach, and assistant softball coach.
Many of the very sports that Moring coached at Escalon were learned while she was a high school student herself.  While a student at Hughson High School, Moring was the captain of the Hughson cheer-leading squad and was a softball pitcher who earned TVL all-league and MVP honors.
Moring, upon graduation from HHS, went to Stanislaus State for two years and then transferred to University of the Pacific where she earned a BA in English. Moring then pursued a Master's Degree in Education Administration from Grand Canyon University and an administrative services credential from CSU Stanislaus.
When an administrative position opened five years ago, Moring was eager to return to her alma mater.
"As a third generation Hughson High School graduate, I have a lifelong love for the Hughson community. I know the traditions and values that this community holds dear," Moring explained. "With passion, innovation, and knowledge of school procedures, I am certain that I can help lead Hughson High School in a direction that is consistent with the district's vision."
Moring's own children are continuing the tradition as 4th generation Hughson students and are the pride and joy of Moring.
"While I have been successful in various aspects of my life, I am most proud of my children, Allison and Peyton. Both of my girls are kind, smart, and athletic," Moring stated. "I love watching them grow into compassionate individuals who strive to meet their goals. I am so blessed to raise girls that are hardworking and determined."
Although Moring's children will always have her heart, Hughson High School will always be near and dear to her as well.
"While it's difficult to select only one of my favorite things about Hughson High, I believe that my favorite thing about HHS is the student body. We have students who are excellent leaders and compassionate individuals," Moring explained. "Hughson is a place where the community comes together to lift up others in times of tragedy and celebrate in successes. Whenever students see a need, they step up and assist where needed. Students receive these skills from the fabulous role models they have around them, including the HHS staff and the Hughson community."
The position of assistant principal is a position that Moring is eager to embrace and excited to start as a new chapter of her life and career.
About the Writer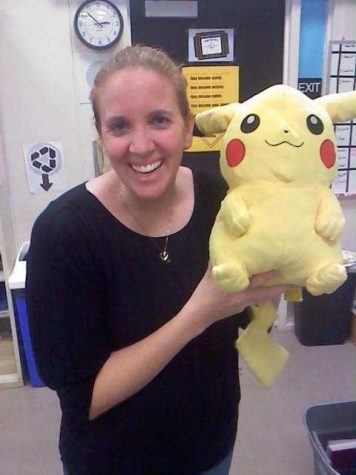 Karalee Ruelas, Advisor
Mrs. Ruelas has been a member of the Hughson High School staff for 19 years.  She teaches Journalism, 12th Grade Multicultural Literature, 9th grade,...