Retirement Farewell
On Monday, May 6th, the Hughson High School Sound Investment and the Symphonic Band performed for the Hughson community during their annual spring concert.  During the event, the groups honored retirees Principal Debra Davis and Assistant Principal Gary Larson.
To honor assistant principal Gary Larson, Sound Investment sang to him the Hughson High School Alma Mater.
"Gary used to be the director of the bands at Hughson High and we have always felt like he was a part of us," stated choir director Brad Thompson.  "He frequently comes in and helps us; plus he has really helped with students that have needed assistance and he is a great musician."
To honor principal Debra Davis, Sound Investment sang "You Raise Me Up" and Symphonic Band played Davis' favorite song "76 trombones."
During her years at Hughson High, Davis has attended every winter and spring concert because she wanted to support the kids of Hughson High.  Davis has thus attended 76 concerts and seems fitting and ironic given that the number of concerts attended directly correlates with her favorite band concert song.
"Knowing and now seeing all of those things said about Ms. Davis and Mr. Larson, it was such an honor singing for them," said freshman Sukhmit Bassi. "I sometimes chuckle because I remember the night of the spring concert I was so excited I would be singing for Mr. Larson and Ms. Davis I forgot my last verse and sang something else."
During the performance of "You Raise Me Up," Sound Investment showcased a video that detailed many of the accomplishments Davis has had throughout her tenure at Hughson High School.
"While we were performing I saw Ms. Davis was crying for most of the concert. The last song we performed, 'You Raise Me Up' filled her face with tears, and not only hers, but the whole audience was standing, clapping and feeling the same emotions of sadness that they have to leave our campus," stated senior Miguel Ramos. "It is hard for many people to see these two great role models leave our community. It was a pleasure to be a part of such a meaningful night."
About the Writer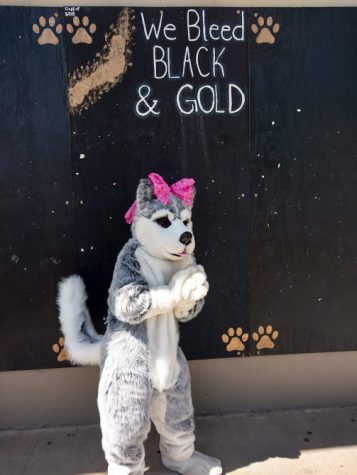 Helen Husky, staff writer
Helen Husky, a sweet charismatic young pup, brings spirit and enthusiasm to the Hughson High School campus.  Known for her pride in the school, she is...