Talent Abounds At Community Art Show
Hang on for a minute...we're trying to find some more stories you might like.
This Saturday, community artists showcased their talents at the Hughson Community Art Show.  Hosted by the Hughson Methodist Church, the exhibition featured art from 14 local artists as well as hundreds of student art pieces.
Three schools, Emile J. Ross Junior High, Hickman Junior High and Hughson High School's art and photography departments all had student pieces displayed.
Developed by Hughson Unified Board Member Cindy Gipp and Pastor Tim Gravatt of the Hughson United Methodist Church, the show brought together artists of all ages and talents.
"Pastor Tim and I were talking one day about artists and [the art show]  just kinda happened and organically evolved," explained Gipp. "There are just so many local artists and we have booster clubs for a lot of different areas at the high school but not an art booster club. That is what we are hoping will come out of this is to have a group of people that will support the arts program and I am also just so pleased that Nick Brown is part of this program."
Nick Brown, the Hughson High School art teacher, was responsible for the largest showcase of student artwork at the event.
"An art show is a celebration of hard work, focus, and sharing of one's artistic voice," Brown explained.  "The visual arts is a very personal subject that requires students and artists alike to share their thought processes and inspirations. These elements are unique to each individual person, making art a highly personal experience."
Brown, as well as being an art teacher at HHS, is also a highly accomplished artist himself and had several of his own art pieces on display.  Brown uses his personal artwork to show his students his own vulnerability, dedication and patience when creating art so that together they can build an art community based on trust and learning.
"One of the important things I would tell all budding artists is to not allow what others say to dictate whether they want to create art or not," Brown stated.  "I believe all art students and artists alike should want constructive criticism and feedback, but they should not allow negative feedback to deter them from creating their art."
Although negative criticism with art is always a possibility, the community of Hughson seemed awed at the exhibit this weekend as they carefully examined each art medium and individual art piece.
"I feel like this showcases hidden talents.  Some of the community members wouldn't be able to see this if they didn't have a high schooler or grandkid in high school. I feel like sometimes artwork gets lost with all of the other academics and we have some really talented kids in Hughson so this is great," stated Gratton School teacher Sarah Cunningham who was in attendance of the show.
Many of the high school students were also in attendance of the art show either viewing their friend's work or looking on as family and community members looked at the art pieces.
"I came down here to see my friend's artwork because he said he had been working hard on it as well as wanting to see the rest of the artwork that my peers have been creating behind the scenes," said senior Devin Moore.  "A lot of it is really impressive."
Brown was particularly excited to have students be able to display their work because he felt thrilled to share in their successes and to be able to watch as all of the hard work that they had put in over the course of the school year was celebrated by the community.
"It is very cool to be able to showcase my artwork to the community and it is just is very cool to see everyone else's as well," explained student Robin Siefkin.
Although this was the first annual art exposé, the Hughson Community Art Show plans on making this a yearly tradition and is slated to always be held the second Saturday of May giving those who want to pursue a dream of sharing their artwork a reality.
"Sharing work opens all artists and students up and makes them vulnerable to positive and negative feedback alike," Brown explained. "The act of sharing art and a little piece of themselves triggers emotions in all people, good and bad, and that is the point, to trigger emotions.  It is my belief that it is extremely important for students to experience the art show to not only feel a sense of accomplishment, but to build self-confidence and self-esteem through the act of sharing something with their community, friends, and family."
About the Writer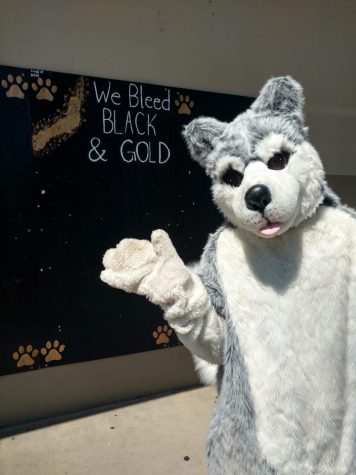 Harley Husky, staff writer
Harley Huskey has been a staple of the Hughson High School Community for many, many years.  Always willing to lend a hand, Harley continues to represent...