Hughson Community Photography Project A Success
For the past six months, twelve students from Hughson High have been capturing evocative images that represent the culture, people and architectural icons of the Hughson community.
Under the direction of photography teacher Jack Bland, student participants Aldo Candido, Miriam Cardenas, Nancy Carpenter, Ricardo Cortes, Abigail Holladay, Adela Jimenez, Sagrario Jimenez, Danna Mata, Luz Oseguera, Cameron Perry, Tatiana Rivera and Rodolfo Ruiz took photographs as part of an after-school program created by Bland called the Hughson Community Photography Project.
The project was created as a part of Bland's Master's Degree in Education and was a study to determine whether or not community visuals arts could be used to re-engage students who may be becoming less interested towards education.  
"I think the students went above and beyond what I anticipated them doing.  Through their hard work, they created an accurate and beautiful representation of the community," Bland stated.
The participants in the project, after the completion, all reported that they now saw their community in a more positive light. The students also showed an increase in student engagement throughout their academic classes.  Hughson High School teachers, who reported back on student participant attitudes, also reported seeing student involvement increase with kids involved in the project answering more questions in class and showing more overall confidence.
"I really enjoyed being able to express my creativity through the Hughson Community Photography Project," said Abigail Holladay. "I felt a lot of pride in the product that came out of the project."
For the students involved, they were not only taking photographs for Bland, but also for an exhibit showcasing their photographs that is on display at Stanislaus County Office of Education.
"The Hughson Community Photography Project was a really fun experience for me," said Nancy Carpenter. "It feels amazing having my work displayed at the Stanislaus County Office of Education."
The Hughson Community Photography Project will be on display throughout the month of May on the second floor of the Stanislaus County Office of Education for any community members wishing to see Hughson Community as seen through the lens of HHS students.
"The opportunity given to my students is amazing," Bland explained.  "It's not that often that you see high school student's work being displayed at a place like the Stanislaus County Office of Education."
About the Contributor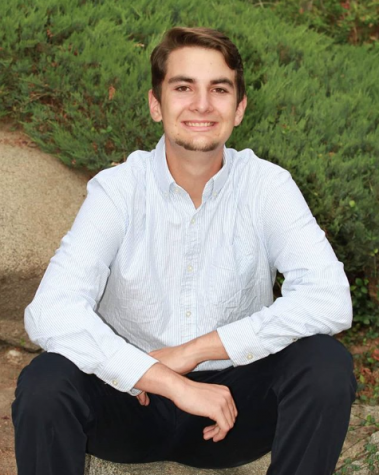 Conor McGill, Sports Chief
Conor McGill is currently a senior at Hughson High. In his free time he likes spending time with his family and covering sporting events in the area. Conor...