New Learning Director At HHS
Hughson High School has hired a new Learning Director, Marnie Smith, whose duties will begin on the 1st of July.
Smith comes from Paradise High School where she served as Assistant Principal working for two years alongside newly hired HHS principal, Loren Lighthall. Smith, as well as Lighthall, were victims of the Paradise Fire losing their homes to the fire as well as the school where both were previously employed.
Wanting to follow Lighthall and work for Hughson High, Smith also quickly fell for the town and community of Hughson.
"I've been working with Mr. Lighthall for the last two years. I think we make a pretty good team so I thought I'd follow him to Hughson since working with him has been so much fun," Smith said. "I fell in love with the town the minute I drove in and seeing all the great things happening at Hughson, I know we both made a great decision to come to Hughson."
Prior to working at Paradise High School for two years, Smith spent 14 years in K-8 working with every grade level of students from Kindergarten to 8th grade, including two years as an ELD (English Language Development) teacher and one year as a TOSA (Teacher on Special Assignment).
Smith earned a Bachelor's in Elementary Education, a Master's in Literacy Studies with an emphasis on ELD, and a Master's in Educational Leadership.
Wanting to bring her experience to Hughson, Smith hopes to work closely with students, staff, and community to continue to accomplish great goals. She has an open door policy and hopes that her presence at HHS will always offer a listening ear or advice when needed.
"I always wanted to be a teacher but life took me down a few other paths (marriage/family). Eventually, I knew that this was where I wanted to be," Smith explained. "I loved the idea of helping someone who may not be currently successful find success, no matter how small. I realized that helping teachers find success was also greatly meaningful and could help many students, so I worked my way toward administration and I love being a part of the high school experience."
Smith's life path of having a family before starting her educational career was also rewarding.  Smith has four grandchildren and three grown adult children. AJ, 29, and his wife, Samantha, are the parents of Colton (4) and Brody (2). Ashley, 25, is the mother of Kaytlynne (3) and Madyson (2), and Brandon is her youngest son at 23 who Smith claims is hands-down the funniest guy she knows.
Her family describes her as hard-working, reliable, loving, smart, sensitive and stubborn and tease that she is not in the least funny – although her close friends describe her humor as one of her best attributes.
Smith loves to spend her free time at Yankee games, completing cross stitches, and spending quality time with her family.  She also looks forward to all the great events and time that she will now be able to be a part of at Hughson High.
"I am so excited to be at Hughson," Smith explained. "I can't wait to be on the sidelines rooting for a Husky victory or cheering loudly at a Husky VAPA [visual and performing arts] performance!"
About the Writer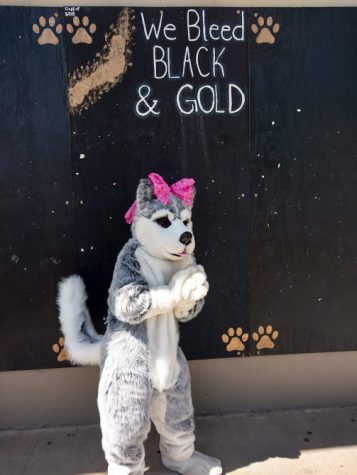 Helen Husky, staff writer
Helen Husky, a sweet charismatic young pup, brings spirit and enthusiasm to the Hughson High School campus.  Known for her pride in the school, she is...