Mr. Baker Joins HHS Ag Department
Hang on for a minute...we're trying to find some more stories you might like.
Recently joining the Hughson High staff is Brett Baker, a new agricultural teacher. Mr. Baker is currently 27 years old and was a graduate of John H. Pitman High School in 2010. He also attended MJC where he earned three associate degrees before transferring to Chico State, where he graduated with a bachelor's degree. 
Mr. Baker chose to teach at Hughson because he saw that there were lots of very motivated and involved students. He also saw that the ag program in Hughson was very powerful. 
"I was trying to find a spot to land that was something like Hughson, and towards the end of the spring semester I was able to find out that there was an opening for a high school ag teaching spot here at Hughson," Baker stated. "I jumped right on and I applied and I was fortunate to interview and get the job. I love the staff I love the students and the area and the community are second to none"
 August 13, 2019, was the first day Baker started teaching. He was a bit nervous because there was a lot going on.
"I thought, you know, I've got to take the first day to really make an impression on these students, and hopefully get them to realize that I'm here for them and I'm here to help [students] not only learn in ag mechanics or ag earth science but also just to grow as individuals," Baker explained. 
For him, it's very important that students learn more about themselves in school and Mr. Baker has enjoyed the experience Hughson High has given him so far. 
"So far, it's been great. I've had a lot of great opportunities to meet people and work with the staff and the students. There's a lot of motivated students with some bright ideas and some very, very motivated students to help the community and the school," Baker commented. "We have new administration this year, and it's exciting to be a part of that administration and this school year moving forward. So, all around it's been a great experience so far, and I just can't tell you how much I look forward to the future." 
The most rewarding thing about teaching for Baker is the students. He added, "Actually, it's funny to ask that, because right here today, a student in my last period, ag earth science class, had painted me a San Francisco Giants emblem with a baseball in the background. Nothing that I thought was going to be painted for me, and very little did I mention that I was interested in the San Francisco Giants, but this student took that and ran with it and actually gave me this painting today. So, I mean, just to see how caring and compassionate these students are here at Hughson, it's just amazing to be a part of."  
Working as an agricultural teacher was a natural fit for Baker, because his family has always been very involved in agricultural work such as working with tractors, raising cattle,  and even welding. 
"Throughout the summer and throughout the weeks after school, I was able to go out there and ride on the golf cart to go and check the cattle, change water, irrigate, and feed," Baker explained. "It was great exposure to me at a very young age. I was an ag student in high school, and so I was able to continue my interest, and it just led me to pursue the career as an ag teacher."
Quick and Q+A with Mr. Baker.
Leonel Ruiz: What has been the most bizarre Halloween costume you've had?
 Brett Baker: "That I've worn? Oh, goodness gracious, a bizarre Halloween costume? Bizarre? Well, I would say I would call this bizarre because it was such a last-minute thing, but I wanted to dress up as a ghost, but I didn't have time to go to the store and get an official ghost costume. So what I did was I didn't go for the bedsheet or the pillowcase like many people would, I don't know, I grabbed a black trash bag, and I cut a hole, and I put the trash bag over my head, and I cut two holes out for the arms, I stuck my arms out and I walked around with a SaveMart bag for candy. It was bizarre because it wasn't very well thought out or planned, I didn't even look like a ghost!
Leonel Ruiz: What is your favorite song?
Brett Baker: "That's a good one, I am a big, big country music fan and I love Jason Aldean. He's got a lot of good music; there is one specific song that I can think of when I think of Jason Aldean and it's titled 1994, so it's 1994 by Jason Aldean.
Leonel Ruiz: What is your favorite dessert?
Brett Baker: "I love vanilla ice cream with strawberries on top."
Leonel Ruiz: What is your favorite movie?
Brett Baker: "I love the movie Benchwarmers. I'm a big baseball fan. Sandlot is also a great movie, but one movie that I'm very interested to watch, that I've watched several times but I'm interested to see how the next baseball season goes, is Field of Dreams. The New York Yankees and the Whitesox are supposed to play at a field that is imitating Field of Dreams, after the movie, and so, if it's got baseball in it, I'm probably going to like it."
About the Writer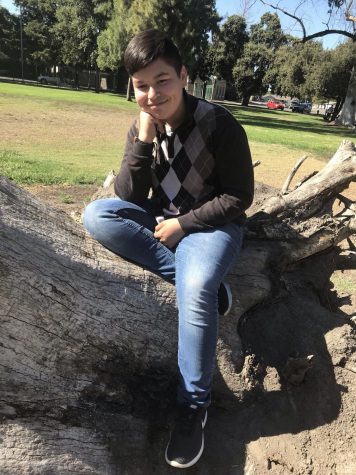 Leonel Ruiz, Staff Writer
Leonel Ruiz is currently a sophomore at Hughson High. In his free time, he does sketches and drawings. He also enjoys hanging out with friends and in the...