Keeping The Parade Tradition Alive
Hang on for a minute...we're trying to find some more stories you might like.
Friday, October 25th at 2:00 pm began the annual Hughson High School parade. A Hughson City fire truck kicked off the procession on Main Street and lead them from the high school and down Hughson Ave, all the way back to Fox Road Elementary.
Many of the floats represented were clubs and sports at HHS. Among the floats represented were Hughson FFA, Key Club, HYLC, HHS Cheerleaders, Oiler Cheerleaders, Four H, Oilers Football, Hughson Elementary School, Fox Road Elementary, Hughson High Football, and many others. 
Some of the floats were also made by the different graduating classes, and included students from HHS who walked alongside the float dressed to correlate with their theme.  The Senior float theme was from the film "Toy Story"; Juniors were "Wreck-It Ralph"; Sophomores were "UP"; and Freshmen were "The Incredibles."  
Elizabeth Garza, who walked alongside her sophomore float, stated her feelings on the parade, "I enjoyed it, it was fun. I had to dress up as an old lady, as Ellie in the movie Up, but it was really embarrassing and it was really fun, and the kids on the sides had a lot of fun. It was pretty good."
Many of the children watching the parade were not only awed by the floats and the high school students themselves, but were also rewarded with candy being thrown to the crowd by members of the procession.
"I think it was fun and entertaining, and I also think it's a good thing because kids get entertained and get candy," said freshman Liliana Arreadondo.
The idea of a homecoming parade is a treasured tradition in many small towns, but has been a tradition for Hughson High School for well over 75 years. 
"I just think it's wonderful, and I don't think many towns do it anymore, so I think it's special that Hughson still does," said Amanda Martinez, who was a spectator of the parade.
About the Writer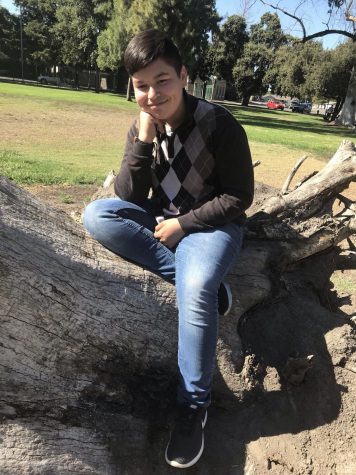 Leonel Ruiz, Staff Writer
Leonel Ruiz is currently a sophomore at Hughson High. In his free time, he does sketches and drawings. He also enjoys hanging out with friends and in the...