12 Days of Service Project Raises Community Morale
To help foster the spirit of the Christmas season and promote positivity and goodwill in the community, the Hughson High School Life of a Husky Leadership Academy (LOH) class created an assistance project this season called the Twelve Days of Service.  
To create the service ideas, the LOH class worked in committees to brainstorm varying plans that they wanted to see come to life for their community.  Once a large list was compiled, the class then pared down the choices to just twelve where each committee then took responsibility for organizing one of the twelve days.  Once the event was created by each committee, the entire class helped each service project become a success. 
"This is an important project because it gives the kids an opportunity to serve their community, to see the need of the community, and to also have fun," explained LOH teacher Kaci Brazil. 
Day One Service Project – Sending Christmas Cards to US Military Sailors. This project was in conjunction with another group that was sending care packages to Navy crew members on their ship. Hughson LOH students each wrote Christmas cards to accompany the care packages in hopes that it would raise the spirits of US soldiers serving abroad during the holiday season. 
"Writing letters definitely meant a lot especially to them because they do not get to enjoy Christmas with their family," said senior Noah Scarbrough. "It also meant a lot to me because it is spreading the Christmas joy and spirit to those who need it." 
Day Two Service Project – Sending Cards to Kayden Chaffin.  This project focused on a young, 6-year-old boy, Kayden Chaffin from Noble, Oklahoma who suffers from the genetic disease, spinal muscular atrophy.  This Chrismas season, Kayden had asked anyone who was willing to write Christmas cards to him to please do so because they are so meaningful to him. Chaffin also wanted to use the Christmas cards to him as a small step towards raising awareness of his disease.
Day Three Service Project – Making Cookies for the HHS staff.  To bring a bit of holiday cheer to the staff senior Emily Olsen and freshman Lillian Madsen delivered cookies to every staff member. 
"We did it last year and it was a super fun project, and I just keep thinking about how everyone would react to it this year and couldn't wait to see the teacher's reactions," said Olsen. 
Day Four Service Project – Making Christmas Candy Grams.  Candy grams were created and sold to fundraise money that was then donated to St. Anthony's for their Christmas basket program. 
Day Five Service Project – Serving Lunch and Making Gingerbread Houses at Hughson Senior Center. Day five brought smiles galore from both the senior citizens and the high school students as the two groups teamed up to make and decorate gingerbread houses for a best-decorated contest. The LOH class also served lunch to the community members. 
Day Six Service Project – Random Acts of Kindness. Hughson High School students senior Brain Hill, senior Christian Aguiar, and freshman Matt Shimon created this service project to allow students to demonstrate kindness to others around campus. They create a spin wheel that allowed students to see what act of kindness they should give.  Some of the random acts included giving 5 fist bumps, telling someone a funny joke, and giving five high fives. 
"I believe that during the holidays a lot of people don't show kindness; they just want to receive and I believe that this allowed us to show others the actual joy in giving rather than receiving," said Hill. 
Day Seven Service Project – Mugs With Hot Cocoa for the teachers.  Senior Jonah Beals and freshman Isabella Nogues delivered Santa mugs filled with hot chocolate packets to each of the teachers. 
Day Eight Service Project – Hot Chocolate served to HHS students.  This service project was designed by freshman Ashtin Brazil and freshman Kylie Bosch to encourage the students of HHS to be festive and dress up for the Christmas season. Any students who wore white, green, red, or a Christmas sweater were eligible to receive a free hot chocolate. 
Day Nine Service Project – Sock Drive. Each history class on the Hughson High School campus was given a box to house the collection of donated socks from HHS students. Contributed socks were then donated to the Hughson Christmas Baskets to help the needy of the community. 
Day Ten Service Project – Helping Make the Hughson Community Christmas Baskets. Throughout the week before Christmas, LOH students took turns going to St. Anthony's Catholic Church to help wrap and create the community baskets.
"I thought that it was cool giving back to the community," senior Brian Hill explained. 
Day Eleven Service Project – Helping the Hughson Chamber of Commerce.  This service project entailed the LOH class helping the Hughson Chamber of Commerce judge the local businesses on how their business decorated for Christmas.
Day Twelve Service Project – Kiss the Pig. For the twelveth and final day of the community service project, HHS held a fundraiser entitled Kiss the Pig. Each teacher was given a mason jar that was decorated as a pink pig.  Students were then asked to put silver change into the jars of the teachers that they didn't want to see have to kiss the pig and bills in those teachers' jars that they wanted to see kiss a real pig. All proceeds from this fundraiser were then donated to the Hughson Community Christmas Basket Project.  Principal Loren Lighthall was selected to be the person that kissed the pig. 
"I've wanted to kiss a pig my entire life and am grateful I finally got the chance. Could have done without the pig snot, but the Christmas basket program is a great cause to support," explained Principal Loren Lighthall.
About the Writer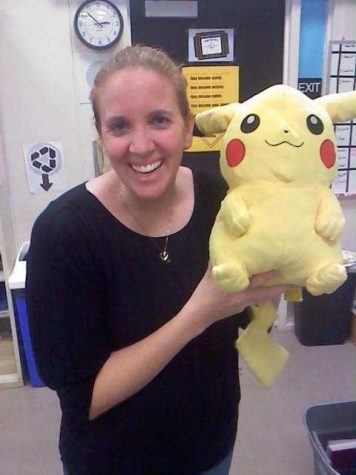 Karalee Ruelas, Advisor
Mrs. Ruelas has been a member of the Hughson High School staff for 19 years.  She teaches Journalism, 12th Grade Multicultural Literature, 9th grade,...