Mrs. McAndrews Named September's Teacher of the Month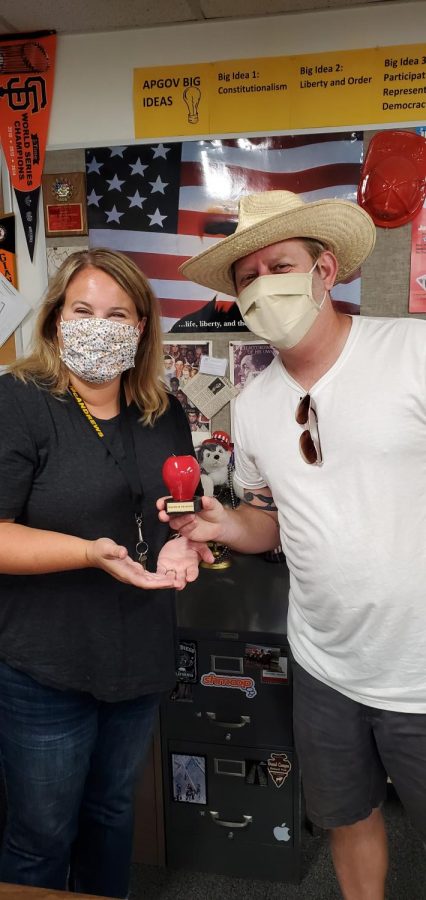 Xavier Pabon and Alexander Pearson, Editors
September 3, 2020
Mrs. McAndrews has been a teacher for nearly two decades and is in her sixth year teaching at Hughson High school. After graduating high school she attended Ricks College, located in Rexburg, Idaho.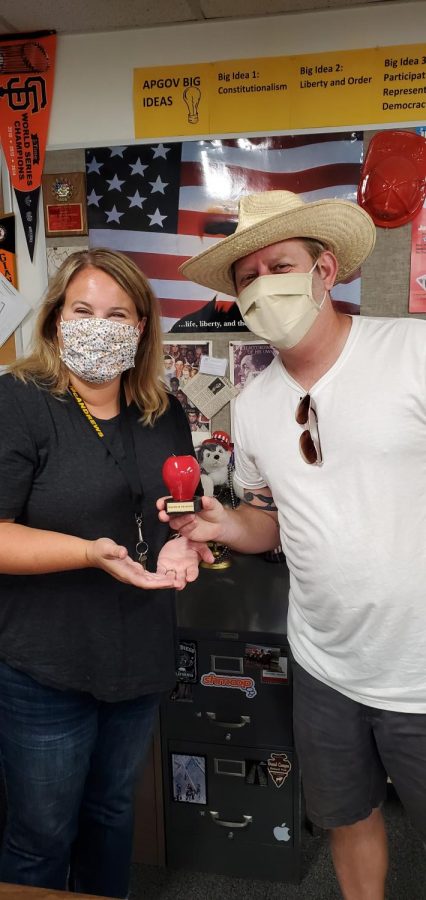 After two years there she transferred to Brigham Young University, Provo, where she majored in History and Health. McAndrews was inspired to become a teacher by her parents who were both educators.
McAndrews describes her teaching style as "going with the flow and adapting to the unpredictable". Her favorite thing to experience as an educator is witnessing kids making connections and realizing that every subject is important. If McAndrews could go back in time and speak to her teenage self the advice she would give is, "don't be afraid to stand out," she said, "I was so concerned with fitting in during high school and I wish I would have just been ok with being unique".
Mrs. Brazil, a teacher at Hughson High School that has worked with Mrs. McAndrews for six years, described her as "always having a positive light and is always willing to help".  Brazil went on to say "She has a big heart, is professionally logical, and is a team player". 
Mrs. Ruelas, another colleague of Mrs. McAndrews stated "she is so fun to collaborate with". Ruelas also shared the fact that Mrs. McAnrdrews is more than a colleague, she is a friend. "Mrs. McAndrews is also someone that will always lend an ear and listen. She makes everyone on campus feel understood". Mrs. Ruelas was very happy to see McAndrews receive the Teacher of the Month award and stated that "Every time I have asked her for help she has always stepped up to the plate and gone above and beyond". 
Mr. Lighthall, Hughson High School's principal, stated that "Everyone that knows Amy is a better person just from knowing her. She personifies what it means to be kind and is a thoughtful person and educator". Lighthall described his reaction to McAndrews receiving The Teacher of the Month award as, "very deserving and overdue". "She is a great teacher because she understands teenagers and works to have relationships with them".