Husky Profile: Mrs. Sanchez
This year is Mrs. Sanchez's fourth year as a librarian. Before she came to Hughson High School Mrs. Sanchez was working at Ross Middle School for about 3 years, she also worked at Fox Road elementary school for some time. 
When Mrs. Sanchez was younger she had planned on becoming a guidance counselor or child therapist. She has worked for The Hughson Unified School District for 5 years, this is her 6th year. 
She enjoys spending her free time with her family and friends. She also enjoys watching sports. Mrs. Sanchez grew up in Hughson as well as Modesto, half of the time she was here in Hugson where her dad lives and the other half was spent in Modesto where she attended High school. 
Many people don't know that Mrs. Sanchez comes from a large family, She has 4 sisters and 5 brothers. Another thing that people may not know about her is that she is a fan of all sports and she enjoys Roller skating.
"I love it here at Hughson High, I love seeing the students back on campus and I cannot wait until all the regular school activities begin." I'm glad to hear that Mrs. Sanchez is enjoying her time at HHS.
About the Writer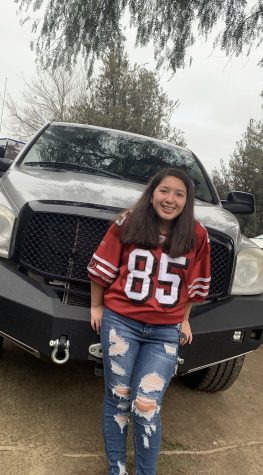 Alexis Sotelo, Staff Writer
This is Alexis Sotelo, she is a freshman at Hughson High School. In her free time she enjoys painting, taking pictures and spending time with family and...