With a Return to Sports Students Adjust to a Different Kind of Season
Due to our current circumstances, sports has changed a lot for athletes, coaches, and people who just want to support our team on the bleachers. Although most of us are thankful that we are at least able to play sports, we still wish that things could be better.
Also due to these circumstances, some athletes haven't been able to play as well as they used to. William Nutcher, a football and track player at HHS said regarding this issue, "Yes, the circumstances that we are in has really affected the way I play and others as well. For starters, When we first started online learning around a year ago I really lost motivation to stay to work out and stay in shape and got to the point where I was probably in the worst shape of my athletic life. Personally, I found it hard without the normalcy of school and a routine to help keep myself in shape and my body healthy. I ended up getting Covid in late December and when we first started track, (before football had been cleared to play) I was in really bad physical shape. It took a long time just to feel like a better athlete and I still feel like I am not in shape. The main point that I am trying to talk about here is that not having school actually affected me in worse ways because I did not have the routine or continuity of sports to stay in shape in order to compete at a higher level. There are athletes that managed to stay in shape and even get into the best shape of their life by continuing to work out throughout the entire pandemic, and you can easily see the difference athletically compared to me. Some of these factors can change the dynamic of a game, especially in football where everyone involved needs to be in their best shape in order to do well."
Mallory Marker, a new cheerleader at HHS also said, "Yeah the circumstances of this year has definitely changed the way I thought my cheer experience would go. I am new to Hughson High this year so I joined cheer because I thought it would be a good way to introduce myself to others, but that was super delayed this year. And because we weren't able to attend games that we looked forward to, so I would say that our motivation to keep up with cheer may have been affected."
Because the way sports is played has changed, there are a lot of things that we miss and hope we can get back soon. Mallory Marker said, "I miss being able to bond with the people on my team. Because of the events over the past year, we would have a solid two to three weeks together before we were told to stop our practices. This was obviously super hard for us because we would get to a point where we feel super comfortable with each other and really confident in our progress, and then we would be told to stop and it would take two months before we could get back to our routine."
Mr. Bernard, a Cross Country and Track and Field coach at HHS said, "I miss being able to walk up and high five my kids.  I miss my kids ability to spontaneously give each other hugs."
William Nutcher said that, "If I miss anything at all, it is the experiences that you get with having school joined with sports. One example of this is Fridays during football season. You know that there is going to be a game tonight and so does everyone at school. Playing a game with a packed stadium is an amazing feeling."
For many athletes not just at HHS but at schools everywhere, without being able to play sports the way we used to, some athletes might become unmotivated to play sports. Regarding this Mallory Marker said, "Yeah I think that this year has changed the way that a lot of students view their sport. Personally, I thought that trying to make cheer work would be too difficult while adjusting to school online. Luckily I have gotten more used to the way that online school goes for me, and now that we are officially starting our sports seasons, things are looking up for everyone."
On the other hand, William Nutcher said, "I have never wanted to give up sports and I was excited for them to come back when the time was right. I have always wanted to play sports and they are a big part of my life."
About the Writer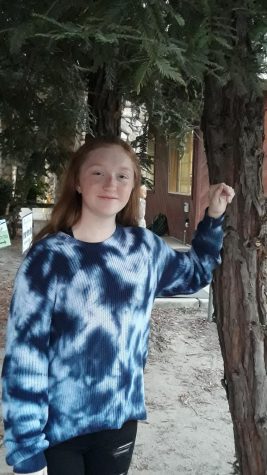 Aamie Bertolosso, Staff Writer
Aamie Bertolosso is a freshman this year. In her free time, she enjoys dancing, hanging out with
friends, and painting. After high school, she plans to...