Teacher of the Month: Mr. Govett
Noah Venegas: How long have you been teaching for?
Govett: This year is my 25th year of teaching. 
Noah Venegas: How long have you been teaching at Hughson High School?
Govett:  This is my 21st year of teaching at Hughson High.  I taught for two years at Delhi High before Hughson, and two years at Cupertino High in the Bay Area before that. 
Noah Venegas: Where were you born? 
Govett: I was born in Footscray, Australia on July 21, 1973.  I think the time was 9:45-ish in the morning.  I was a big baby (10 lb., 6 oz.) 
Noah Venegas: Do you like teaching?
NG I absolutely enjoy teaching.  A student asked the other day what job I would do if I wasn't teaching and I couldn't think of an option. 
Noah Venegas: What type of classes do you teach? 
Govett: This year (and it's what I've done the majority of my years) I teach five periods of English 10, and one period of Sports P.E..  I have taught English 9 in the past, and I used to teach Humanities classes, mythology as an English elective, and remedial English for kids trying to pass competency tests.
Noah Venegas: When did you know you wanted to become a teacher?
Govett: I thought about it when I was in college, and my parents and others thought I would be good at it, but it wasn't until my junior year of college that I really made that decision.  I also wanted to coach, so the two jobs went together well. 
Noah Venegas: Where did you grow up?
Govett: While I was born in Australia, I moved when I was three and a half years old.  I grew up in Hughson, and I attended Hughson Elementary, Ross Jr. High (only 7th and 8th grade at the time) and Hughson High. 
Noah Venegas: What was your early life like?
Govett: It was pretty typical for kids around here.  I played outside with friends a lot, and I was fortunate to grow up on a street (Pine St., right next to the high school) that had a lot of kids near my age.  We were all friends. 
Noah Venegas: What college did you go to? 
Govett: I started out at Modesto Junior College, and transferred to Fresno State, where I finished my bachelor's degree and teaching credential. 
Noah Venegas: What kind of hobbies do you have?
Govett: Work and family take up a lot of my time, but when I have free time I play the occasional video game or watch sports.  I do a lot with sports related teaching also, but I just retired from coaching this year.  I'm sure that will be temporary, but I want to take some time to watch my oldest son play college basketball this year. 
Noah Venegas: What's your favorite quote?
Govett: I have a lot of quotes that I like, but one that I tell my students and athletes each year is "If it's to be, it's up to me."  My basketball coach in high school used to tell us this often. 
Noah Venegas: What's your favorite sport?
Govett: My favorite sport to play was basketball (I never played competitively until high school and picked it up quickly).  I was a four year varsity soccer player at HHS, but my best sport was swimming.  My sophomore year I swam on Davis High's team as a Hughson representative and went to sections.
Noah Venegas: What's your favorite sports team?
Govett:  NBA – Spurs and Celtics, MLB – Dodgers, NFL – Raiders, La Liga MX Soccer – Aguilas, anything NCAA – Fresno State.
Noah Venegas: What's your favorite song?
Govett: It really depends on the day and my mood.  I have so many songs I like, and I discover new ones all the time. 
About the Writer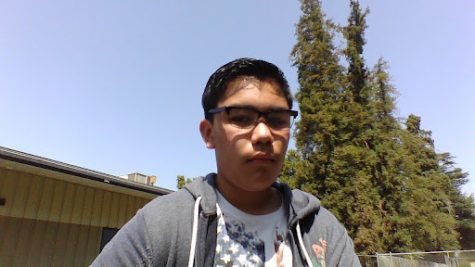 Noah Venegas, Staff Writer
Hello My name is Noah Venegas. I'm a freshman at Hughson high School. I like to do quite  a lot of things ranging from basketball to video games. History...