HHS Celebrates Halloween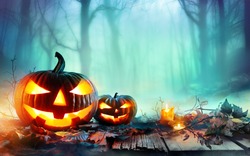 As we draw closer towards the end of the month, the haunted holiday draws ever closer. Halloween, a tradition known by everyone, from the candy to the costumes, and from the scary to the silly, creates an excuse for everyone to be anything. At our school, students wait for this time of year. Smaller events take place in our town, such as the traditional trick or treating, Halloween parties from across your street and the trunk or treat. 
According to Mr. Lighthall, "Halloween is a fun time and night with the kids and getting candy together as a family" and "seeing the kids dress up and having a fun time, seeing all the silliness and fun with friends and just overall having a good time together with the costumes, creativeness, and fun." Mr Lighthall also stated "Most people are happy during an event because it's something fun and accepting. The town comes together to participate in the activities and celebrations." To Mr. Lighthall, Halloween means bringing people together with activities like trick or treating and hanging out with friends.
Next, Isabella Lopez, a student at HHS, told us that Halloween to her, means having fun together and getting candy. "I am most excited about dressing up because you can't dress up like that every day. I love the decorations and the candy. It brings families together and distracts some people from what they may be going through. I feel like Halloween brings the whole community together because everyone knows everyone."
According to Ricardo Ruiz, another student at HHS, states "I love to celebrate Halloween and have fun, get candy and hang out with my friends. I also love the decorated houses and the people dressed up in costumes." Ruiz mentions "I really enjoy that it brings the community together and how it gives everyone a sense of joy and tradition."
Rosa Walton states that "Halloween is a fun night out with her friends and I really enjoy staying out late at night." Walton also states "I also really enjoy the candy I can get for free." Rosa loves Halloween because it excites her as it should with everyone. "This year's Halloween is going to be great compared to last year."