Return to the Knights of Columbus Crab Feed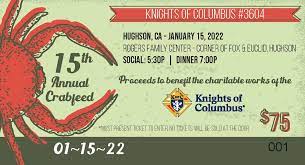 The Hughson FFA Department has been a large contributor to the success of the annual Knights of Columbus Crab Feed. The last crab feed that FFA participated in was back in January 2020. This year things will take place a little differently; masks are required to be on at all times for those working as servers or kitchen helpers. The hosts of the event are trying to keep everything as safe as possible for the guests and those serving the community. 
     The event opened to the public around 6:00 pm; from there, guests could wander around and explore the auction opportunities and raffle prizes. This year's crab feed was a full house, with nearly twenty tables filled with guests. There were about 41 volunteers at this event working as servers, kitchen aids, and a couple of individuals selling raffle tickets. There were two servers at a table and a few brave volunteers handled the table by themselves. Even though the event was a little short-handed, volunteers from Hughson FFA were able to come together with The Knights Of Columbus and leave the community satisfied. By the end of the knight the consensus of the event was entirely satisfactory. 
   Those who attended the event were first able to enjoy pallet saturating appetizers for their first course. Then they were provided with pesto pasta and garlic bread, both receiving great feedback. By around 7:30 pm, the crab was served; the event was all you could eat so many jumped at the opportunity, enjoying several bowls of fresh crab. As the celebration came to an end, people were offered to buy crab by the pound. With an offer as good as that many purchased more of the dish to take home and enjoy. By 9:30 pm, the event had wrapped up. Servers started to clear tables, guests were getting ready to leave, grabbing their auction and raffle winnings on the way out. 
    The Knights Of Columbus, who hosted the entire event, also granted Hughson FFA with a generous donation. This donation will be wisely spent, and without a doubt, will help the FFA program in its journey to enrich students. The Hughson FFA department is grateful for the opportunity to serve, and the hosts are appreciative of the help they received. Overall, the collaboration between Hughson FFA and The Knights Of Columbus Organization provided the community with an excellent meal and a wonderful experience.