The Result of California's Storms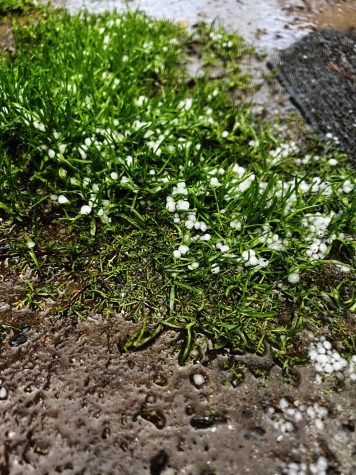 As many of us know, California has been experiencing extreme weather. As of late, extreme wind conditions, heavy rainstorms and snowstorms have been consistent recently. But the question is, is this a good or bad thing? Does anyone enjoy these weather conditions? How has it been affecting our community and those around us? Let's hear from some people. 
"SOOO MUCH WATER! And the wind is crazy too!" Jillian Jimenez, Hughson's High English teacher, expressed. "It's a love-hate relationship," Jimenez stated. She carried on to list a negative, "Our tent to cover our boat blew over even though it was screwed into the concrete and it broke our window to our spare bedroom." 
Jimenez also added on with a positive attitude, "We love snowboarding, sledding and snowshoeing so the weather has been AMAZING for those activities and some of the best days I have ever had on the mountain." "I worry about the flooding and peoples lives/homes but I think the water is a good thing," Jimenez concluded.
But what about hearing from those who aren't enjoying the weather as much? What are the issues and struggles this extreme weather has created?
Paovanary Keo, a local in Hughson, said, "Rain is fine until it gets to the point where it is just life threatening." "It's been raining so bad with electricity going out, floods, and things getting destroyed," "This weather has ruined my backyard, ripping my pergola," Keo exclaimed. 
Keo carried on sharing her issues, "There's a lot of errands I have to run and it gets in the way, I have a newborn and it gets delayed because I don't feel safe with me and my baby out in the rain," "I feel that the weather can make some people depressed because they are stuck in their houses." "Personally, I love the rain because I get to stay home but not when I have to go out," Keo concluded. 
Although, there are some who don't have as much of a strong opinion on this. Some people don't really mind as much about this weather at all! 
Samatha Frederick, a Freshman at Hughson High said, "I don't mind the rain at all." Frederick continued, "I noticed there's been more wind and rain since the tornado warnings happened," "Besides a tree falling down near my house, it hasn't done much damage." "I'm having to wear my raincoat everyday just in case the weather changes," "It worries me a little bit, but I'm sure we'll all be fine," Frederick noted.