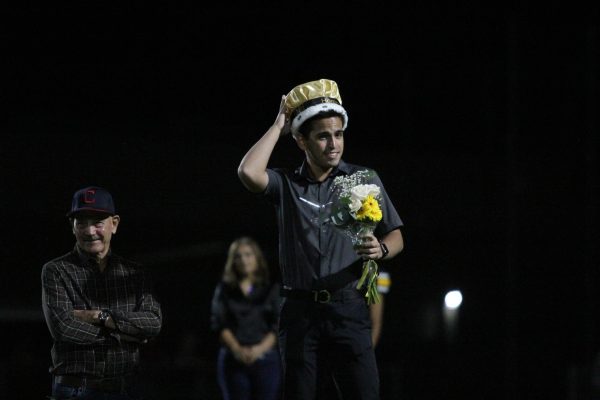 Homecoming is a fun tradition that high school students get to experience throughout all years of high school. 8 students from each grade level, 4 being princesses, and 4 being princes. In total there are 32 nominees. This is one of the many ways you can become history here at HHS. 
The freshman and sophomores gathered by the backside of the field with their fathers and mothers ready to walk them down the field. The girls in beautiful long dresses sparkling in the sun, the boys dressed up fancy. The announcer begins to introduce all parents and nominees, they proceed to walk down the field. They line up and begin to announce the winners for their sash and crown. 
Freshman Homecoming winner, Sophia's Spears said, "I feel very thankful about winning. I was very nervous but when I heard my name I was quite shocked." 
The bleachers were filled with students, family, friends, and staff members cheering on the prince and princess homecoming winner. Spears said, "seeing all the people in front of me made me scared, but I saw familiar faces cheering me on so I felt a lot better." 
Senior Homecoming winner, Mia Ruiz said, "I've never been nominated for something so important so when I saw all the people in the stands I kinda spaced out because I realized how much of a big deal it was, but I was very excited after that." 
Being able to be nominated for homecoming is a great opportunity to have a chance to get to know your class. Our 2023 Homecoming nominees and winners are all very grateful they get to experience this great part of high school.