Hughson High Wins Red Ribbon Week
This week, Hughson High School was named the winner of the Stanislaus County Red Ribbon Week competition for the fourth consecutive year. 
"Winning Red Ribbon Week is so important to us as a school," explained PHAST and Renaissance advisor Karalee Ruelas. "It is such a group effort with all of the teachers, classes, students, clubs, and community members coming together to support our efforts. Without them, we would not be a success year after year."
The week focuses on raising awareness about the far-reaching negative consequences of drug use, educating and inspiring students to take drug-free pledges. The campus creatively rallies for students' well-being, both in the present and future. This year, the different days of the week had themes chosen by the PHAST (Protecting Health and Slamming Tobacco) club to raise awareness about the dangers students face when they indulge in drugs and alcohol.

Monday was Crazy Sock or Hair Day, during which students were able to wear colorful or unusual socks as well as wild hairstyles. Throughout the day, the Spanish classes wrote their drug-free pledges, in which they all pledged to be 100% drug and tobacco-free.

Tuesday was Twin Day or Perfect Pairs. Students dressed up as twins or pairs from a television show or movie, such as Alvin and the Chipmunks, the Avengers, and more.

Wednesday was Marvel versus D.C. Day. A battle of the comics, if you will. People could wear outfits from either fandom, whether that entailed wearing a shirt advertising the fandom or dressing up as a specific hero. Some of these heroes were: Batman, Spiderman, Ironman, and Superman. 

Thursday was Halloween, one of the most highly-anticipated holidays of the year. Students were allowed to wear their Halloween costumes to school, which precipitated a night of trick-or-treating and excessive candy consumption for many students. The guitar club also performed at lunch during the school day.

Friday was Crazy Spirit Day. Students wore their best black and gold attire to school to show their school pride. During lunch on Friday, there were a number of games and booths set up for students to enjoy while the guitar club performed again, ending Red Ribbon Week on a fantastic final note.

Although Red Ribbon Week is indeed past, it is still important to remember that drugs and alcohol continue to ravage communities nationwide. 480,000 people a year (as of 2018) die to tobacco use, and 70,237 per year from drugs (as of 2017). Not only do people die using drugs, people also die in drug-related accidents. All of this is important to acknowledge, as we can make a change on our planet and reduce the number of lives destroyed by drugs and alcohol. We here at The Hughson Paw pledge to be 100% drug-free, and we hope our readers will join us as well. 
About the Writer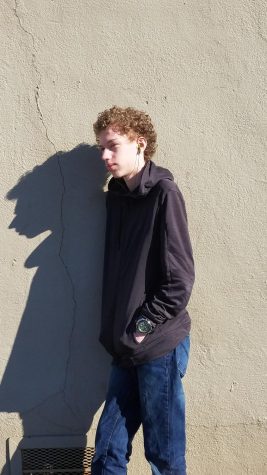 Xavier Pabon, Staff Writer
Xavier Pabon is a sophomore and considers himself a "jack of all traits." He does a lot not only for himself but for other people as well.  In his...